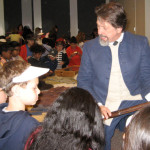 Peter Bonner tells stories, gives tours, and shares his love of history to young and old.
Click "+" for more to expand the section for more information on the program.
School Programs
Peter will arrive in a museum quality costume for a 90 minute history program at your school. His programs combine both his stories and his large collection of original and reproduction items to see and touch. His goal is always to educate and inspire and leave the group excited and ready to learn more. The cost of his program is $5.00 per student (teachers, administration and parents free) and payment is required at the time of performance. To find out more about a particular program and to reserve a date simply contact Peter via the form below.
Peter is currently providing the following programs:
Pilgrims and Indians (Kindergarten-Second grade)
Mary Musgrove and Tomochichi and the Creeks (First – Third grade)
Native Americans….the five Civilized Tribes of our area or East versus West (All grades)
Colonial Georgia/ Revolutionary War (All grades)
The Civil War (All grades)
Georgia's Black History 1776-1900 (All grades)
Tours
Peter began his internationally acclaimed Gone with the Wind Tour in Jonesboro, Georgia prior to the Atlanta Olympic Games in 1996 and continues to meet tour buses for a one of a kind tour of the locations and tales of the people who filled the pages of Margaret Mitchell's epic tale. Although he only meets the large tour groups, his Gone with the Wind Tour is also available daily thru the Road to Tara Museum in Jonesboro as their little bus takes you to the places and you hear Peter's voice (via audio) sharing the stories that he tells for the larger groups. His book Lost In Yesterday (available here) contains the stories from the tour.
Peter has also been called on to present the Gone with the Wind Trail thru Atlanta and the Red Earth Trail from Jonesboro to Fayetteville.
If you have a special tour request or want to combine or alter a tour simply contact via this site.
Special Appearances
Anyone who has met Peter knows of his infectious laugh and his love for the historical stories he shares. He has entertained at corporate parties and events and been featured at many historic sites in Georgia and the southeast.
Book Signings
Peter is the author of two books, Lost In Yesterday (the only book to ever garner a written endorsement from the Margaret Mitchell family) which is a written version of his Gone with the Wind Tour (to date the only tour of the GWTW sites ever created).
His second book, The Official Guide to the Saving Tara Project, chronicles his current project as he preserves and presents the Tara movie set that has been sitting in a local dairy barn since 1983. He is the first to ever successfully display the Tara façade and his efforts to date have taken SavingTara facebook site and SavingTara Web/Blog site to over 22,000 followers. The story of his project has been told all over the world thru digital, print, television and radio.
Other Events
Peter is always ready to hear from you as to what you need. He has acted, shared, spoken, "and just plain talked" on television and radio and he will again if needed. If you would like to ask him about your customized program, feel free to contact him through this site.
To book a program please fill-out the following short form.